Pharmacie du Trocadero
106 avenue Kleber
75116 Paris, France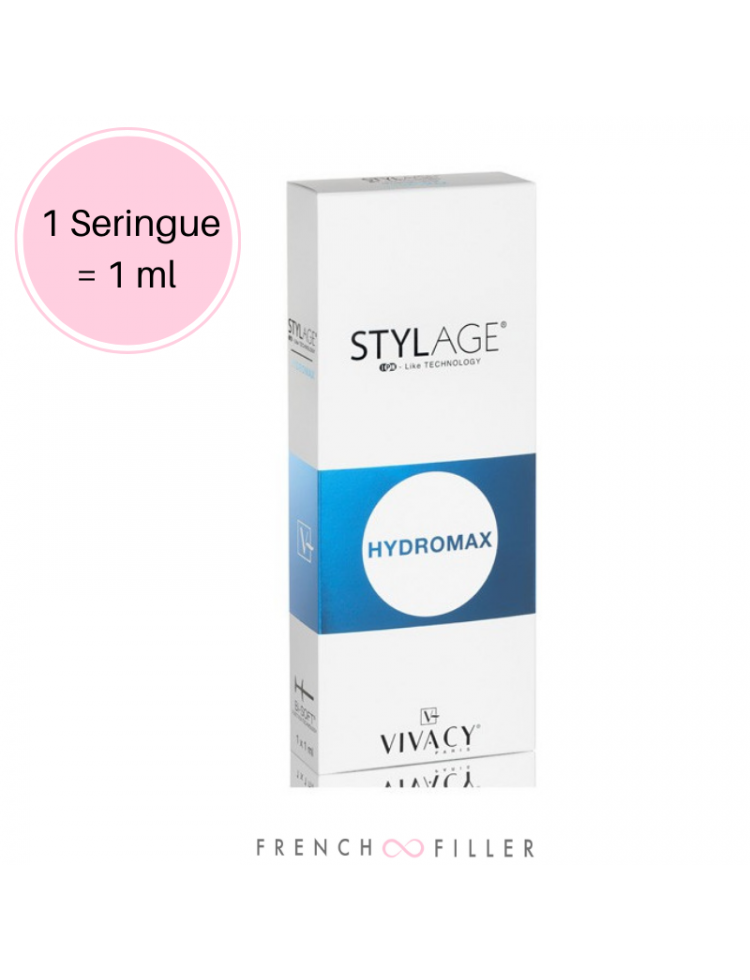  
Stylage Hydromax
Tax included
40,83 €
tax excl.
Stylage Vivacy
Low cross-linked Hyaluronic Acid 
Box containing 1ml vial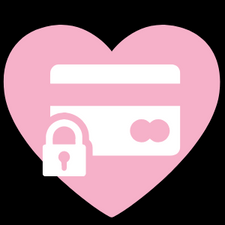 100% secured payment
All of your payments are secured. A doubt? Feel free to contact Us!

Delivery
Shipping on the day of your order, delivery with DHL.

Quick to respond customer service
Via phone, Whatsapp, text, e-mail.Feel free to ask all of your questions to our team of pharmacists
Stylage Hydromax by Vivacy Laboratories is a 

cross-linked

 injectable hyaluronic acid gel that improves skin

hydration

 and 

elasticity

. It is part of the 

mesotherapy

 protocol.
Composition of STYLAGE HYDROMAX 
Cross-linked hyaluronic acid IPN-Like + Sorbitol*
IPN-like: 2 single-phase cross-linked hyaluronic acid networks to create a single interpenetrating network. The aim is to stabilize the hyaluronic acid to increase the product's remanence in the tissue.
 Concentration = 12,5 mg/g
Indication of STYLAGE HYDROMAX
Hydration in the mid to deep dermis
Preservation OF STYLAGE HYDROMAX 
2°C to 25°C
- Stylage Hydro Max is packaged in boxes of 1 x 1 ml syringes
- Stylage Hydro Max is a very low cross-linked hyaluronic acid at 12.5 mg/g with additional antioxidants
- Stylage Hydro Max enables:
> Superficial intradermal injection 
> Superficial wrinkles filling 
> Slight dark circles filling 
Stylage Hydro Max is recommended for thin and dehydrated skin and to prevent skin aging.
Stylage Hydro Max is a medical device that does not require a prescription.
After careful observation of your face, the doctor will be able to determine the best Stylage treatment protocol for you. This product is available over the counter and does not require a prescription. However, it is essential to ask your doctor for advice. Mind that the injection of this product requires a technical medical gesture that must be performed by a doctor (doctor specialized in dermo aesthetics, dermatologist, plastic surgeon).
Stylage Hydro and Stylage Hydromax are 2 very different products!
Stylage Hydro is a non-crosslinked hyaluronic acid, Stylage Hydromax is a crosslinked hyaluronic acid. They are not injected at the same level of the dermis, the Stylage Hydro is injected in the superficial dermis or at the dermal-epidermal junction. Stylage Hydromax is injected into the mid to deep dermis.
Find out more about Vivacy Stylage:
HYALURONIC ACID EXPERTS
VIVACY Laboratories are a French manufacturer specializing in the development, production and distribution of innovative injectable medical devices containing hyaluronic acid and antioxidants for aesthetic treatments.
BI-SOFT ® INJECTION TECHNOLOGY
In its constant quest for innovative excellence in the medical aesthetics market, VIVACY Laboratories have developed the Bi-SOFT ® injection technology, the new generation of patented injection systems.
SAFETY AND EFFICIENCY
To ensure total purity and homogeneity in the production of our hyaluronic acid gels, VIVACY's highly qualified experts carefully check each syringe before packing it.
STYLAGE (available with or without lidocaine) is an innovative range of single-phase cross-linked injectable fillers containing hyaluronic acid and antioxidants: mannitol or sorbitol. They are manufactured using VIVACY Laboratories patented cutting-edge IPN-Like technology. (Except for STYLAGE Hydro and STYLAGE Hydromax, a non-cross-linked hyaluronic acid gel).
HYALURONIC ACID: A "HYDRATION MOLECULE"
-       All VIVACY products are hyaluronic acid based. Hyaluronic acid is a natural molecule present in the human body, especially in the skin and mucous membranes. It can store up to 1,000 times its weight in water, thus contributing to the hydration and toning of the treated tissues.
-       Hyaluronic acid has a short lifespan and is water soluble, which means that it must be stabilized before being injected into the skin. In order to do this, a special technical process called "cross-linking" is used to bind the hyaluronic acid molecules to obtain a cohesive hyaluronic acid gel for a smoothing, lifting and/or volumizing effect on the skin that will last for several months. The duration of the treatment depends on many factors, such as the patient's skin type and structure, age, lifestyle, the area treated, and the injection technique used by the practitioner.
-       From a clinical point of view, the main characteristics of the product sought by doctors are its ability to lift skin tissue, provide mechanical support and spread easily. To obtain these desired effects, the hyaluronic acid gel must have a unique combination of elasticity and viscosity. These specific viscosity and elasticity properties determine where the gel will be injected, allowing it to respond to the various mechanical constraints to which it will be subjected in the tissue.
Therefore, the interpenetration of the cross-linked hyaluronic acid networks:
- Optimises product rheology, in particular viscosity, to ensure good product injectability.
- Preserves the partial independence of the interpenetrating hyaluronic acid networks, while increasing the density of the chemical nodes.
- Ensures the cohesion of the hyaluronic acid gel and its single-phase properties.
*MANNITOL AND SORBITOL, ANTIOXIDANT AGENTS
During an intradermal injection, the invasive movement of the needle through the skin layers causes an inflammatory response and the production of free radicals. These free radicals are harmful to the hyaluronic acid molecules because they accelerate their degradation, leading to a faster degradation of the injected filler and a reduction in the duration of the correction effect. In order to protect the hyaluronic acid gel formulation during injection, VIVACY has incorporated antioxidants in its fillers: mannitol or sorbitol. These antioxidants act as active trappers against the most aggressive hydroxyl radicals generated during the injection process. As a result, they work to minimize the fast degradation of the injected hyaluronic acid gel.
Produit réservé aux professionnels de santé (médecin spécialisé en dermo esthétique, dermatologue, chirurgien plastique)
You might also like
Price

€159.00

tax incl.

132,50

€

tax excl.

Regular price

€79.00

Price

€60.00

tax incl.

50,00

€

tax excl.