Pharmacie du Trocadero
106 avenue Kleber
75116 Paris, France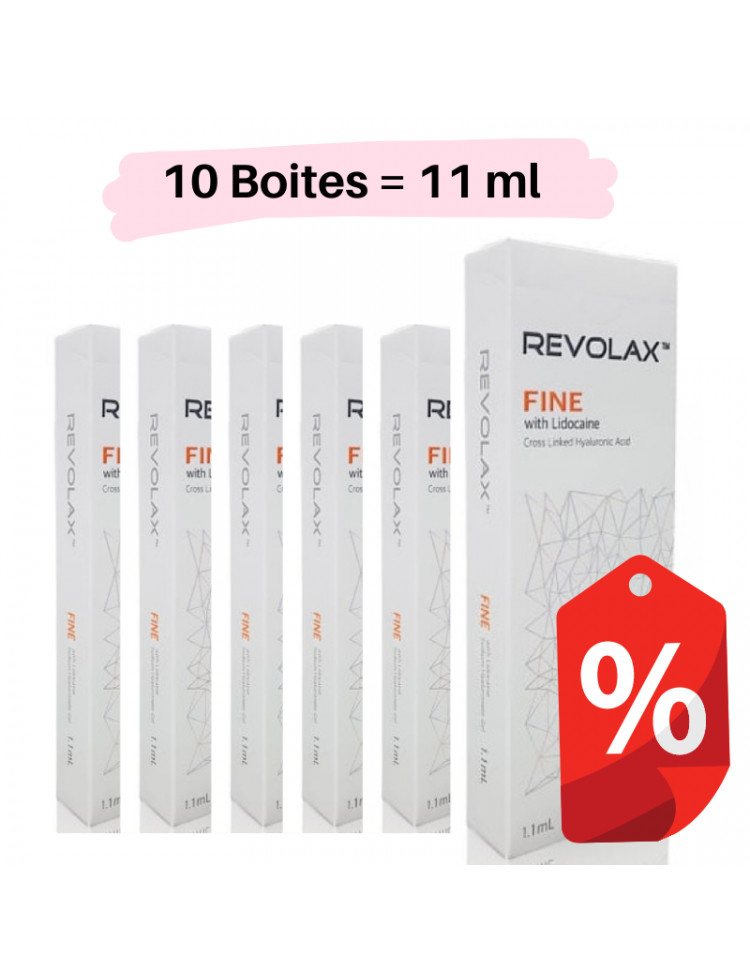  
Pack of 10 REVOLAX FINE LIDOCAINE
Economical Pack
Across Revolax 10 boxes
Injectable hyaluronic acid
10 syringes of 1,1mL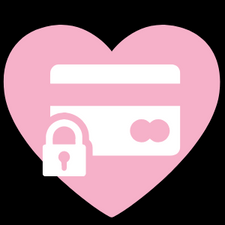 100% secured payment
All of your payments are secured. A doubt? Feel free to contact Us!

Delivery
Shipping on the day of your order, delivery with DHL.

Quick to respond customer service
Via phone, Whatsapp, text, e-mail.Feel free to ask all of your questions to our team of pharmacists
REVOLAX Fine Lidocaine is a light, highly viscous and elastic dermal injectable hyaluronic acid gel, designed for the treatment of superficial wrinkles, including crow's feet, frown lines and neck wrinkles.
It penetrates quickly into the skin, creating a very natural and healthier look for the injected area.
REVOLAX Fine with lidocaine is a clear, biodegradable, cross-linked dermal filler.


Composition of Revolax Fine lidocaine
Hyaluronic acid:  24 mg / ml
HCl Lidocaine 0,3%
Volume 1.1ml
Duration of Revolax Fine lidocaine

 

8 to 12 months
Across is a Korean laboratory. 
It is CE marked.
REVOLAX:
- High purity non-animal hyaluronic acid
- Natural substances extracted from bacteria
- High purity (endotoxin <0,0015 UI / mg)
- Biodegradable (natural absorption)
- High cross-linking: Across thin cross-linking technology
- Improving durability
- Highly consistent single-phase
- Regular and dense pattern
- Stable and constant gel structure
- Natural effect / Soft injection
- High viscosity and elasticity
- Intensify the persistence of longer durability
- Maintains elasticity by firmly supporting the skin tissue
REVOLAX FINE LIDOCAINE TECHNICAL SPECIFICATIONS SHEET
DESCRIPTION OF REVOLAX FINE LIDOCAINE
REVOLAX FINE lidocaine is a sterile, pyrogen-free, physiological gel of cross-linked hyaluronic acid of non-animal origin with the addition of 0.3% lidocaine hydrochloride. It is a colourless, unscented and highly viscous aqueous gel.
REVOLAX FINE lidocaine is provided as a sterile volume of 1.1 ml in a single-use glass syringe with two sterilized needles.
INSTRUCTIONS FOR REVOLAX FINE LIDOCAINE
REVOLAX FINE Lidocaine is recommended for intradermal implantation for volume loss and morphological asymmetry of the face. The addition of lidocaine provides an analgesic effect during treatment.
CONTRAINDICATIONS OF REVOLAX FINE LIDOCAINE
 · 
Do not inject REVOLAX FINE Lidocaine into the eye area 
(eye circle or eyelids).
· Do not inject REVOLAX FINE Lidocaine into the blood vessels (intravascular).
· REVOLAX FINE Lidocaine should not be used in:
- Pregnant or nursing women
- Persons under 18 years of age 
- Patients known to be hypersensitive to hyaluronic acid.
- Patients who tend to develop hypertrophic scars.
· · REVOLAX FINE Lidocaine should not be used in combination with laser therapy, chemical peeling or skin abrasion.
· REVOLAX FINE Lidocaine should not be used in areas with inflammatory and infectious skin problems.
· The total dose of lidocaine administered should be considered if a dental block or topical administration of lidocaine are used simultaneously. High doses of lidocaine (more than 400 mg) may cause acute toxic reactions with symptoms affecting the central nervous system and cardiac conduction.
· Lidocaine should be used with caution in patients receiving other local anaesthetics or structural agents such as some anti-arrhythmics, as systemic toxicity may be additive.
· Lidocaine should be used with caution in patients with epilepsy, altered cardiac conduction, severe alteration of liver function or severe renal dysfunction. Peribulbar injections of local anaesthetics carry a small risk of persistent ocular muscle dysfunction.
DOSAGE AND ADMINISTRATION OF REVOLAX FINE LIDOCAINE
Prior to treatment, the patient's suitability for treatment and medical history should be considered. Patients must be informed of the indications for REVOLAX FINE lidocaine as well as its contraindications and potential side effects before treatment.
The area to be treated must be carefully disinfected and the product must be injected under sterile conditions. Keep the product at room temperature for 30 minutes before injection. Before injecting, press the plunger of the needle down until a small drop is visible at the end of the needle. Inject slowly into the dermis using the appropriate technique, either the linear threading technique or a series of spot injections with the syringe provided. The amount of REVOLAX FINE Lidocaine to be injected per wrinkle will depend on its severity. If whitening is observed, that is to say if the skin turns white, the injection must be stopped immediately, and the area massaged until it returns to its normal colour. After the injection, the correction area should be lightly massaged to conform to the surrounding tissue.
Touch-up of a correction started with REVOLAX FINE Lidocaine should be done immediately or within a few weeks after the first injection.
WARNING
REVOLAX FINE lidocaine is intended for use as an intradermal implant only.
Ensure that the product has not expired, and that sterility has not been compromised before use. The product is for single use only; do not re-use.
If reused, this may lead to reduced performance of the device and serious cross-infection. Used needles and syringes must be thrown away in a designated container.
PRECAUTION OF REVOLAX FINE LIDOCAINE USE
· REVOLAX FINE lidocaine is packaged for single patient use. Do not re-sterilise.
. Do not use if the packaging is open or damaged.
· REVOLAX FINE Lidocaine should not be injected into an area where there is an implant.
· REVOLAX FINE Lidocaine should not be mixed with other products prior to implantation.
· Hyaluronic acid products have a known incompatibility with quaternary ammonium salts such as benzalkonium chloride.
· Do not use in patients with coagulation disorders or in patients who have been treated with thrombolytic anticoagulants or platelet aggregation inhibitors within the previous 2 weeks. Also, it is recommended to avoid taking aspirin, non-steroidal anti-inflammatory drugs or high doses of vitamin C the week before the injection.
· Patients are advised not to wear make-up for 12 hours after the injection and to avoid extended exposure to sunlight, UV light and extreme cold and heat for 2 weeks after the injection.
· If the needle is stuck, do not increase the pressure on the piston rod but stop the injection and replace the needle.
UNDESIRABLE EFFECTS OF REVOLAX FINE LIDOCAINE
Doctors should inform patients that there are potential adverse reactions that may occur immediately or be delayed after injection. These undesirable effects include, but are not limited to, the following:
· Inflammatory reactions such as redness, swelling and sensitivity may occur at the injection location. These reactions may last for two weeks.
· Nodules or indurations may also occur at the injection spot.
· Bruises.
· Coloration or discoloration of the injection spot.
· Poor or weak filling effect.
· Glabellar necrosis, abscess formation, granuloma and immediate or delayed hypersensitivity have been reported in the literature following hyaluronic administration and injection. It is therefore important to consider these possible complications.
Patients should report to their doctor as soon as possible any inflammatory reactions that persist for more than a week or any other side effects that develop. The doctor should treat these reactions properly.
Any other undesirable side effects associated with REVOLAX DEEP lidocaine injection should be reported to the distributor and/or manufacturer.
SHELF LIFE AND STORAGE OF REVOLAX FINE LIDOCAINE
Do not twist the cap 
The expiration date is indicated on each package.
Store between 2°C~ 25°C and protect from direct sunlight and cold.
REVOLAX FINE Lidocaine is not a permanently implantable product.
REVOLAX FINE Lidocaine is biodegradable and absorbed slowly over time. Based on data from clinical studies of REVOLAXTM FINE Lidocaine, a period of only 48 weeks has been confirmed for safety and efficacy.
Compatible HyaluronPen ( pour cette utilisation vous devez avoir suivi et réussi une formation certifiée et agrée à ces techniques. En aucun cas vous ne devez essayer d'injecter le produit sans la formation adéquate sous peine d'entraîner des blessures graves. French Filler n'accepte aucune responsabilité en cas d'utilisation en dehors de ces termes et conditions.)
You might also like
Regular price

€57.50

Price

€37.50

tax incl.

37,50

€

tax excl.

Regular price

€575.00

Price

€506.00

tax incl.

506,00

€

tax excl.