Pharmacie du Trocadero
106 avenue Kleber
75116 Paris, France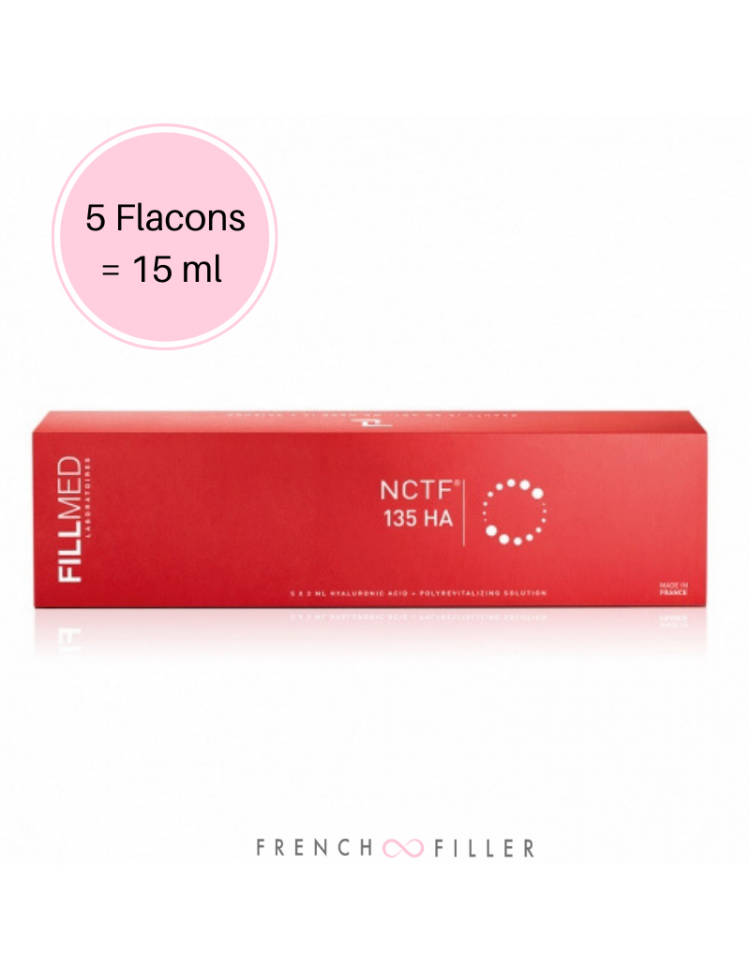  
FILLMED NCTF 135HA
Tax included
132,50 €
tax excl.
Fillmed Filorga MESOTHERAPY 
Hyaluronic acid + Vitamin mix
5 small bottles of 3 ml
Injection needles 30G and 32G / Can also be used with a derma roller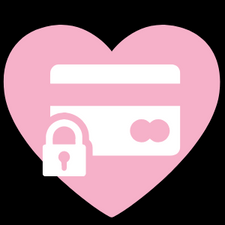 100% secured payment
All of your payments are secured. A doubt? Feel free to contact Us!

Delivery
Shipping on the day of your order, delivery with DHL.

Quick to respond customer service
Via phone, Whatsapp, text, e-mail.Feel free to ask all of your questions to our team of pharmacists
FILLMED NCTF 135HA : anti-ageing mesotherapy, formulated with hyaluronic acid.
Mesotherapy is a multiple injection technique performed in the superficial dermis using very thin needles.
In this way, very small quantities of hyaluronic acid and nutrients are introduced as close as possible to the cells of the dermis.
FILLMED NCTF 135 HA is a poly revitalizing combination that will stimulate the regeneration of the dermis.
This treatment acts biologically and globally on the causes and consequences of skin ageing.
Fillmed Nctf 135HA compensates for the natural loss of endogenous hyaluronic acid and re-densifies the dermis' support mattress. Its high hygroscopic potential allows it to absorb up to 30 times its own volume in water: it is therefore essential for the hydration and suppleness of the skin. 
It is also an excellent skin repairing agent, acting on cell proliferation and regulating skin microcirculation.
Indications - FILLMED NCTF 135HA
- Bio revitalization
- Hydration of tired skin or skin lacking radiance
- Wrinkle treatment and redensification of mature skin or skin lacking firmness
- Shine optimization.
- Action on the scalp: stimulates hair growth and stops hair loss. To be used with a dermal roller.
FINE LINES - HYDRATION - RADIANCE - ELASTICITY are the main effects obtained by using the NCTF ® 135 HA Fillmed mesotherapy programme.
Treatment areas - FILLMED NCTF 135HA
Face

Neck

Cleavage 

Back of the hands 

Inner arms

Inner legs 

Abdomen

Scalp
Mesotherapy is a biological and progressive treatment that requires a minimum of 5 sessions for visibly rejuvenated skin.
Use - FILLMED NCTF 135HA
1 session per week for 5 weeks
Maintenance

 - FILLMED NCTF 135HA
1 session every 3 months.
Composition - FILLMED NCTF 135HA
Hyaluronic acid: 5 mg/ml
+ 55 poly revitalizing ingredients: 
14 vitamins (A, B, C, E) stimulate the vital functions of the cells
24 amino acids contribute to the formation of proteins (elastin, collagen, etc.)
6 coenzymes catalyse biochemical reactions in tissues
5 nucleic bases activate cell communication
4 minerals overcome skin deficiencies
2 antioxidants reduce the synthesis of free radicals
Small bottle NCTF 135 HA
NCTF 135 HA ® WHAT IS PERFECT SKIN?
Perfect skin is, first and foremost, healthy skin.
Despite fine lines and wrinkles, it is the quality of the skin that holds the secret to beautiful, radiant and healthy skin.
Every woman has her own idea of beauty... but for most, the ultimate beauty comes when body and soul are in harmony - that's when natural beauty and radiance shine from within. 
PERFECT SKIN? THE EXPERT'S RESPONSE:
For expert Dr Valerie Philippon, ultimate beauty is not only associated with a regular beauty routine, it is also determined by lifestyle, nutrition and exercise choices. Here are some keys to beautiful skin:
- Moisturise 
- Protection against daily aggressions (pollution, free radicals etc.)
- Balanced diet
- Drink enough water
- Provide essential nutrients for the skin in order for it to function properly
- Choosing the right regular beauty routine
- Regular physical activity
- A good night's sleep!
The products sold on this site are paraphamaceutical products, they are therefore over the counter and do not require a prescription. This product is a medical device.
Presentation of Fillmed products
FILLMED expertise
:
FILLMED laboratories are experts in hyaluronic acid. A custom-made production unit with the latest technology has been designed specifically for ART FILLER ®.
-  GARANTEED QUALITY 
In accordance with strict quality requirements, the factory guarantees a manufacturing process that complies with strict international standards: ISO 14644-1 and ISO 13485. All syringes are inspected individually, manually and visually, one by one, ensuring maximum quality and safety standards.
- CONTINUOUS INNOVATION 
FILLMED Laboratories invest in its innovative manufacturing, with 20% of turnover dedicated to R&D each year.
- INNOVATIVE RESEARCHES 
FILLMED plans scientific studies using the latest technology to prove the performance and safety of its products.
- IN VITRO STUDIES (BASED ON CELL CULTURE): 
Fillmed tests its products on primary human skin cells adapted to real-life everyday conditions such as aged fibroblasts obtained from wrinkle depths, skin cells under UV radiation or oxidative stress, to ensure the clinical effect of the products. Skin cells would be evaluated either for their morphology or for their activities/functions.
- EX VIVO STUDIES (BASED ON THE TISSUE):
In order to meet the laboratory conditions best suited to real human skin, Fillmed tests its products on pieces of living human skin: these pieces, resulting from abdominoplasty or lifting surgery, can be kept from 24 hours to 3 weeks in the laboratory. After applying the products (topical or injections), Fillmed can then evaluate skin samples (biopsies) using all available methods such as conventional microscopes, electron microscopes, marker dosage, etc.
- CLINICAL TRIALS:
FILLMED plans various multi-centre, comparative, long-term studies with sufficient sample size to provide reliable data to assure practitioners and also patients about the safety and efficacy of FILLMED products. Through these studies, Fillmed has also been able to offer doctors the most accurate protocols.
Produit réservé aux professionnels de santé (médecin spécialisé en dermo esthétique, dermatologue, chirurgien plastique)
Data sheet
Quantité par boîte

5X3ML

Utilisation

mésothérapie
You might also like
Regular price

€209.00

Price

€159.00

tax incl.

132,50

€

tax excl.