Pharmacie du Trocadero
106 avenue Kleber
75116 Paris, France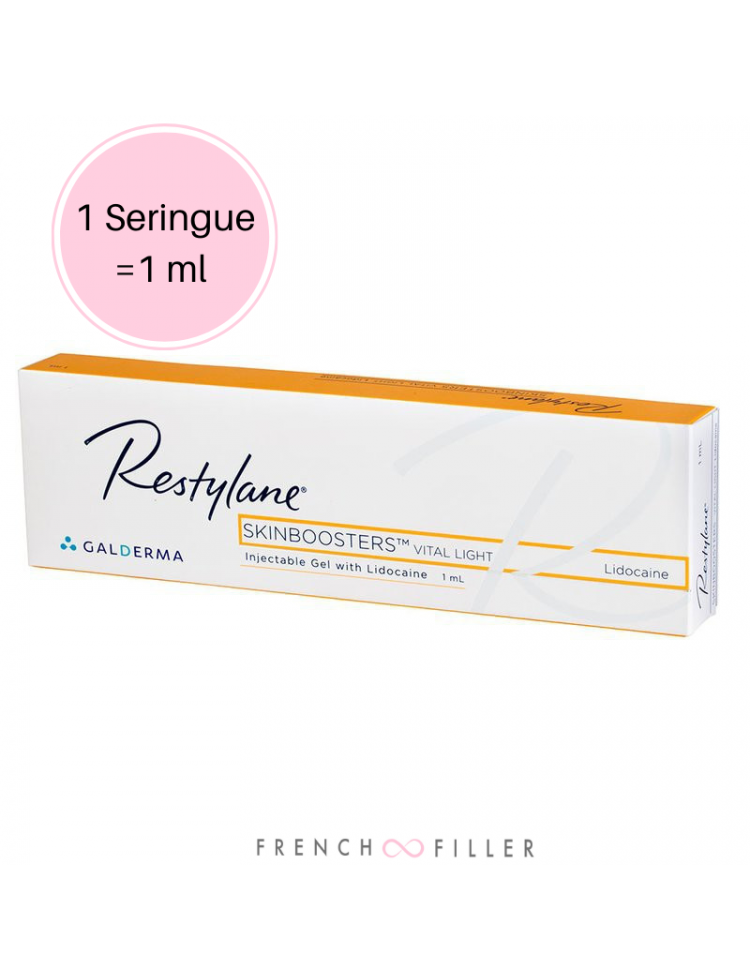  
RESTYLANE SKINBOOSTERS VITAL LIGHT LIDOCAINE
Tax included
62,50 €
tax excl.
Restylane Galderma
Injectable Hyaluronic Acid
1 pre-filled syringe of 1ml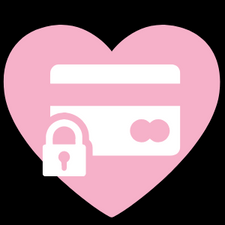 100% secured payment
All of your payments are secured. A doubt? Feel free to contact Us!

Delivery
Shipping on the day of your order, delivery with DHL.

Quick to respond customer service
Via phone, Whatsapp, text, e-mail.Feel free to ask all of your questions to our team of pharmacists
Restylane Skinboosters Vital LIGHT, from Galderma Laboratories, is an injectable product based on hyaluronic acid, which improves the radiance and hydration of the skin.
Vital LIGHT is recommended for young skin
Galderma Protocol: Refresh and Illuminate
Whatever your skin type, age or gender, Restylane Skinboosters can help refresh your appearance. Based on patented NASHATM technology, Restylane Skinboosters is a filler that uses a special form of hyaluronic acid. The product naturally integrates into the skin to noticeably improve the smoothness, elasticity and appearance of the face (lower cheeks and jawline), upper neck and back of the hand. Restylane Skinboosters has a special mode of action. After a series of treatments, it gradually refreshes the appearance of your skin.
Effects of RESTYLANE SKINBOOSTER VITAL LIGHT
Improve the radiance, elasticity, hydration and quality of the skin. Gradually refresh the skin's appearance
Composition - RESTYLANE SKINBOOSTER VITAL LIGHT
Hyaluronic acid gel (12mg/mL) - Lidocaine hydrochloride (3mg/ml)
Injection depth - RESTYLANE SKINBOOSTER VITAL LIGHT
Medium dermis
Recommended treatment plan:
Initially: 3 treatments at 4 week intervals 
Maintenance treatment: Every 6 to 12 months
-----------------------------------------------------------------
THE PRODUCTS SOLD ON THIS SITE ARE PARAPHARMACEUTICAL PRODUCTS AND AVAILABLE OVER THE COUNTER, THEREFORE THEY DO NOT REQUIRE A PRESCRIPTION.
THIS PRODUCT IS A MEDICAL DEVICE. THIS PRODUCT WILL NOT BE RETURNED OR EXCHANGED
Please note that in France, the injection of this product requires a technical medical procedure that must be carried out by a doctor (doctor specializing in dermo aesthetics, dermatologist, plastic surgeon).
-------------------------------------------------------------------
Restylane Skin boosters - A fresh approach to skin rejuvenation, designed to provide moisture and improve skin imperfections, resulting in radiant, healthy, fresh skin.
Restylane Skinboosters is a part of Restylane treatments. These products have been clinically proven to improve skin health, gradually increase elasticity, reduce roughness and reduce the appearance of fine lines and other blemishes such as acne scars.
- The results are guaranteed, long-lasting and backed by 15 years of clinical experience
- Over 5 million treatments have been performed to this date.
- The treatment is carried out precisely with the unique SmartClick ™ system.
- Restylane Skinboosters is a multipurpose and effective solution for skin problems on the face, neck, cleavage and hands.
Do you want glowing, smooth skin that you will see, feel and love? 
Restylane® Skinboosters ™ will make you feel confident with your skin again.
After a few treatments, depending on your practitioner's recommendations, you will notice that your skin is smoother, more radiant and more elastic. The skin on your face, hands, neck and cleavage can be improved.
On sale for 15 years, over 5.5 million treatments have been performed.
The injections are usually given in 2 to 3 treatment sessions, 2 to 4 weeks apart, to gradually restore the elasticity and smoothness of your skin.
Regular maintenance sessions (approximately every 6 months) take place as scheduled with your practitioner, ensuring lasting results.
Clinical studies have demonstrated the lasting impact of a Restylane Skin booster treatment with improved skin elasticity on the face and hands for up to 12 months after the initial treatment.
Who is qualified to administer Restylane treatments?
Only a qualified medical practitioner should perform a Restylane treatment. Depending on the legislation in your country, this may include plastic surgeons, cosmetic clinicians, dermatologists, cosmetic dentists or cosmetic nurses. If in doubt, please contact Galderma.
What precautions should my health professional take?
There are several important precautions that should be discussed with your healthcare professional to ensure successful results and avoid complications. Discuss the following with your health professional:
If you are taking immunosuppressive medication.
If you are taking aspirin, non-steroidal anti-inflammatory drugs (NSAIDs) or any other medicine that affects bleeding 
If you have any questions about treatment precautions, talk to your healthcare professional.
How is Restylane administered?
First, the practitioner disinfects the area to be treated. A small amount of Restylane Fillers or Restylane Skin boosters is then injected into the skin through a thin needle or blunt micro-cannula to fill in wrinkles or add volume, shape your face or lips or rejuvenate your skin. After the injection, your practitioner can gently massage the treated area to even out the result.
How long does the treatment last?
A treatment with Restylane does not take long. Depending on the area and the indications, it takes about 15 to 45 minutes. A touch-up treatment is sometimes performed about two weeks after the initial treatment to optimize the results.
Is the treatment painful?
Some people may experience slight discomfort. Many Restylane products contain a built-in local anaesthetic, lidocaine, to give you a more comfortable treatment experience. Restylane also comes with special needles to facilitate skin penetration. You and your practitioner can decide if additional pain relief is needed.
Can anyone follow a Restylane Fillers or Restylane Skin boosters treatment?
Ask your practitioner if you will be treated with any of the Restylane products. When discussing your medical history, it is important to tell your doctor everything, including any medications you are taking, any current or past allergies and their severity, and any current or past health problems you have experienced. Your practitioner will discuss the potential side effects of the Restylane injection and their severity. You should also inform your practitioner if you have had any previous cosmetic, surgical or non-surgical treatments.
Who manufactures Restylane?
Restylane is manufactured by Q-Med, a Swedish company of Galderma. Galderma, a pharmaceutical company with over 6,000 employees worldwide, is specialized in dermatology and is operating in over 100 countries.
Produit réservé aux professionnels de santé (médecin spécialisé en dermo esthétique, dermatologue, chirurgien plastique)